The class is run by our wonderful Playschool Teacher Nathalie & Early Years Educator Niamh in the morning. In the afternoons children are cared for by Nathalie, Sandra & Niamh.

The curriculum is Play Based and the equipment, playroom, covered outdoor garden room and activities reflect this. Getting the children out playing in the fresh air is a very important part of our day. We have a wonderful natural garden with swings, mud kitchens & natural play materials. We also have an all weather garden, with slides, bikes, cars, scooters, climbing frames & play houses. ECCE Free Pre-School Grant & National Childcare Scheme (NCS) funding is available.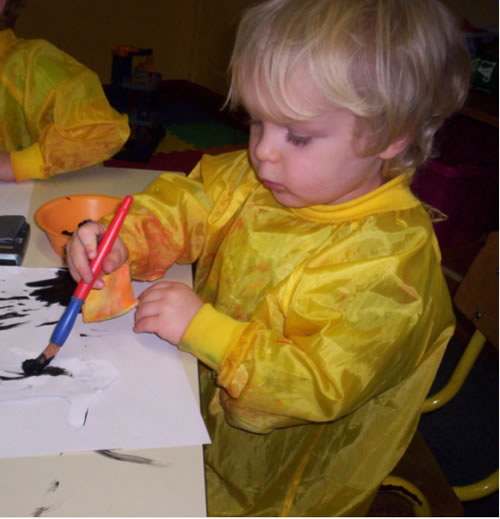 Age Group:
2.5 years – 3.5 years
Opening Hours:
Full day: 7.30am – 6pm, Monday- Friday
Sessional Play School:
9.30am – 12.30pm, Monday-Friday
During Sessional hours we have up to 10 children.
The rest of the day we have up to eight children each day.
STICKY FINGERS PLAYSCHOOL
OUR DAY
Time and order of activities may change according to
the children's interest and emerging events.
9AM – 9.30AM :

SETTLING IN TIME / PLAY TIME

9.30AM – 10.15AM :
TABLE WORK / ARTS & CRAFTS
10.15AM – 10.40AM :
CIRCLE TIME
(STORY TIME, NEWS OF THE DAY, IRISH)
10.40AM – 11AM :
BREAK TIME
11AM – 11.30AM :
PLAY TIME/GARDEN TIME
(CHILDREN CAN PLAY GAMES OR CHOOSE ACTIVITY)
11.30AM – 11.45PM :
SONGS, RHYMES, POEMS
11.45PM – 12PM :
TIDY UP
12.15PM – 12.30PM :
PLAY TIME / GARDEN TIME